Jordi and Bern Vilahur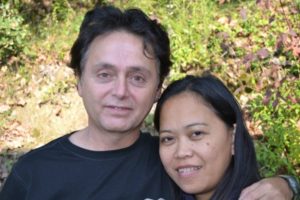 We form a very interesting and fun family. Jordi is Catalan and Bern is Filipina. Our sons from youngest to oldest are Isaac, Marc, and Jordi Jr. with his wife Abigail. This picture was taken in one of our favorite places near L'Arcada. One of our favorite things to do is take hikes and walks through the mountains. The diversity of the landscape and culture of Spain is what fascinates us.
My responsibility at L'Arcada is Program Director and my wife is in charge of the Service and Cleaning teams during the camps. We have been serving at L'Arcada forever.  Almost since the moment the flood waters receded and Noah released the dove…well, almost.
Praying and talking with David, the founder of L'Arcada, I immediately grabbed the vision of this ministry and wanted to be part of it. I helped with the search for the ideal place to do the camp, and also suggested the idea of using teepees from the beginning, and then, in 1991, I directed our first camps.

Come visit us! We would love to share our vision with you and, if you wish, we can take you to our favorite place!