Dave and Cindy Bintz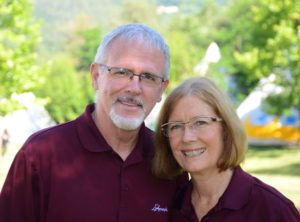 Dave and Cindy Bintz have been full time at L'Arcada since May of 2014 with Dave serving as the Sports Director of the camp. They began serving on short term assignments and helping in the Basketball Camps in 2009 and came back several summers before God called them to Spain! They have been challenged to expand the sports camps and broaden its exposure to more Spanish young people.
Having been in Christian ministry for over 35 years in the USA helped them as they transitioned from ministering to athletes in Christian Schools to being given the privilege of ministering to mostly non-Christian athletes in Spain. Dave and Cindy served many years in St. Petersburg, Florida, but are originally from New Jersey. They have three children and nine grandchildren.
When they have free time, they enjoy walks around their hometown of Banyoles, going to the market and drinking Spanish coffee!