Rafa and Yoli Villalba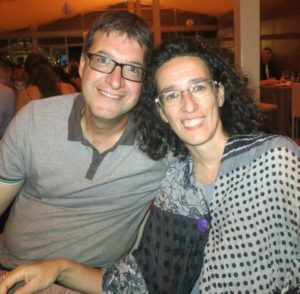 From the time that the Lord chose me to serve him at 13 years of age, I have been involved at our church. Yoli gave her life to Christ when she was 18.  She was impressed at how God is close and relational not some being that wants to keep a distance. Once we both met and got married and felt a pull to serve at our local church, running the youth group, helping plant another church, Rafa even served as a deacon.
A few years ago we started volunteering at the ministiry of L'Arcada where I helped with maintenance on the property. We both where amazed seeing how God touched the hearts of people of all ages, and now we are on staff full time. I am the Director of Maintenance at L'Arcada and also direct two discipleship programs called McGyver and MissGyver where we teach all age groups different maintenance abilities, how they can be used for the Lord, and dive into the word with different bible studies encouraging them to get involved in their local church and the ministries it runs. Yoli helps with promotion in doing grammar corrections of everything that comes out, She also runs the camp store and helps in different areas around camp such as Maintenance, Kitchen, and service teams.
We have 2 children, both in their 20's, Laura and Miquel.  If you would like to know more about us please visit our website or email us, and we would love to share with you what God is doing in Spain.